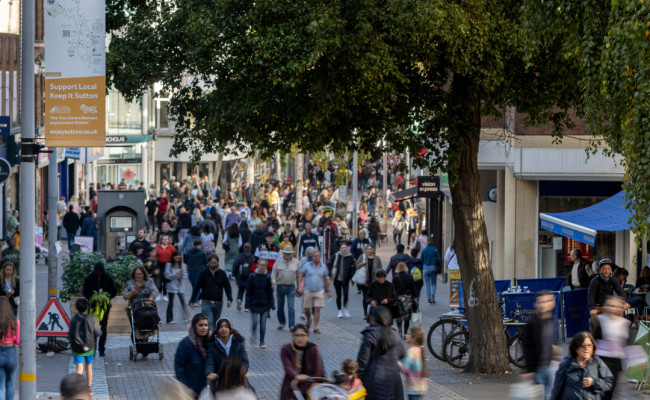 Boost for Sutton town centre as Council sets out plans to bring derelict buildings back to life.
The transformation of Sutton Town Centre took another step forward this week as Sutton Council announced its latest plans for the high street.
The plans, which were approved by councillors at Sutton's Strategy and Resources Committee on Monday 19 June, include:
A bespoke new home for Sutton College at 246-254 High Street, the well known historic white building opposite ASDA.
The refurbishment of two more heritage buildings at 137-145 High Street (the former Topshop and Vision Express shops) into retail and business space.
The Oru Sutton co-working and wellbeing space extended to include a rooftop bar and restaurant with panoramic views of London, retail space to kick-start small businesses and an entrance from Throwley Way offering 24 hour access to the workspace.
The Throwley Yard cinema and community arts venue delivered by February 2024, creating a new destination for culture in the town centre.
246-254 High Street, which the Council bought in February, will be completely renovated and extended to create a bespoke, first-class adult learning facility for Sutton College, alongside new Council homes.
The building's brick facade will be restored to celebrate its history while bringing a new vibrancy to the northern end of the high street. The new Council homes will be available at genuinely affordable social rent, providing much-needed homes for local families.
The refurbishment of 246-254 High Street is expected to be completed in early 2026, during that time the College will remain open to learners at its current location on the Civic Centre site.
The proposals come after more than 2000 people shared their views in a survey last autumn, voicing support for more educational opportunities in the town centre and calling on the Council to protect the high street's heritage.
All the projects are being part-funded by the Government's Future High Streets Fund, through which the Council secured £11.35 million to transform the town centre.
Councillor Ruth Dombey, Leader of the Council, said: "I am delighted that we are delivering on our promise in bringing extra vibrancy and public services to Sutton High Street. We bought 246-254 High Street because we know local residents care about the building and want to see it brought back to life.
"Giving Sutton College a purpose built home on the high street means first-class educational facilities, more customers for nearby businesses and shops and a new lease of life for that end of the high street, alongside more genuinely affordable homes for local families - something I'm especially proud of.
"Oru Sutton will also provide our fantastic micro-businesses and start-ups with high-quality work spaces where they can continue to grow, coupled with the rooftop bar, wellness centre and cultural facilities at Throwley Yard will transform Sutton into a top destination to live, work and play."
Catherine Winslow, Chair of Governors, Sutton College, said: "It is exciting to look forward to a purpose-built new home for Sutton College with a dedicated 'front door' onto the high street. We are looking forward to working together with the Council to design a college with all the facilities we need to serve our community of many different learners and support our dedicated staff."