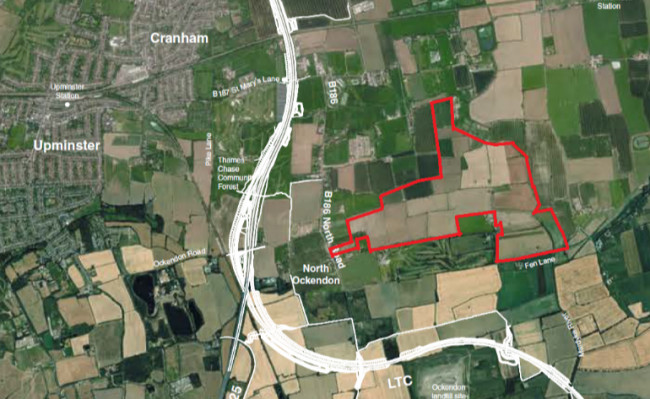 Cabinet to consider £5.3bn investment opportunity for Havering
Plans for a new £5.3bn inward investment project for East Havering will be reviewed at an upcoming Cabinet meeting.
The Council has been in negotiations with a private sector developer, Digital Reef, to build Europe's largest datacentre on a site of 175 hectares. It would create an estimated 2,370 jobs for local people, a substantial skills legacy and wider economic benefits.
The proposed site of the datacentre campus, located one mile from the M25 and two miles from Upminster underground and mainline rail stations, will provide public access to greenbelt land which is currently private.
The proposals include developing a Zero Carbon facility and, through a partnership with Space Park Leicester, the University of Leicester and the Earth and Space Sustainability Initiative which supports the environmental, economic and scientific of future generations underpinned by a globally accepted ESG Kitemark. The Initiative will support innovation in zero carbon energy, digital infrastructure and the monitoring of agricultural and other land use activity to improve the sustainability of the planet, which has the potential to become a world-leading centre for the development of green technology.
The majority of the site, up to 300 acres, will also become an ecology park for the public to enjoy, in order to deliver the aspiration for the datacentre to be carbon neutral.
Councillor Ray Morgon, Leader of Havering Council, said:
"Havering can be incredibly proud to have attracted this investment interest through to this crucial stage and this report to Cabinet seeks to confirm the support of Members for the investment, in principle.
"This project represents one of the largest mobile investments globally, representing 25% of all UK inward investment in 2021 alone.
"This intrepid opportunity will both boost our Council finances from new business rate payers and provide a shot in the arm for wider local economy, through new jobs for Havering residents, developing training and skills, as well as opening up to 300 acres as a new ecology park for the public to enjoy.
"I am truly excited for the opportunities that this inward investment can bring to the borough and our residents."