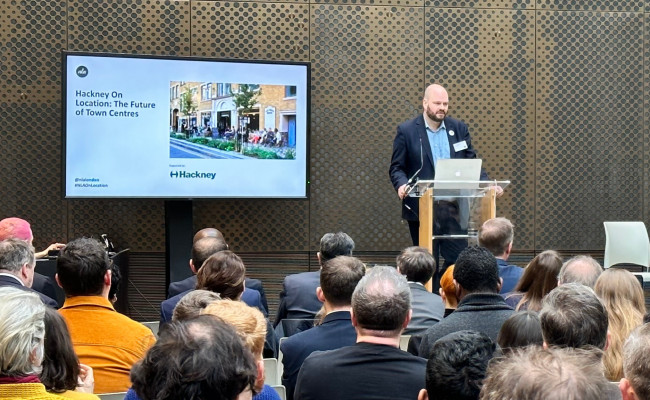 Hackney On Location: The Future of Town Centres
Bringing NLA On Location to Hackney to discuss the future of town centres was perfect timing, coming just days after the welcome boost of a £19m grant from the Government's levelling up fund to invest in public spaces and community assets in Hackney Central town centre.
That funding means we can improve walking and cycling routes, cultural and library services and inclusive enterprise opportunities in a changing town centre that needs to transform to accommodate the new homes, jobs, facilities and infrastructure that a growing borough needs.
The grant itself is a drop in the ocean in a borough that has suffered £140m in government cuts since 2010. But our success in a highly-competitive bidding process is a testament to the clear vision we have for our town centres – not just in Hackney Central but in Dalston and across the borough.
The event was an opportunity to demonstrate why the future of town centres like Dalston and Hackney Central is so bright. We have a diverse mix of small and medium-sized businesses, thriving cultural and evening economies which all contribute to the unique Hackney experience that makes people want to live, work, visit and invest here.
Despite more than a decade of austerity, we've also maintained Council-ownership of significant amounts of land in key town centre locations. Backed up by a high-performing planning service, we now have the opportunity to ensure new development meets our collective needs – taking more control of what is built and ensuring investment goes with the grain of these diverse places.
It also means we can use knowledge and insight from the local community to shape change, not least so that the places and facilities that local people value most are protected. Our plans for Dalston and Hackney Central are being directly informed by around 7,000 local people through our biggest ever local engagement exercises – the Dalston Conversation and the Hackney Central Conversation – and we put that front and centre with NLA.
But with the scale of change needed, and the challenges that come with it, delivering on these priorities is not something we can do alone. Alongside partners and the community, we want to bring forward exemplary development, use innovative approaches and make the most of Council-owned land so that our town centres meet Hackney's needs both now and in the future – whether that's homes, workspaces or community infrastructure.
This is why bringing together people from the Hackney community and the built environment industry was so valuable. From the history of the Dalston Eastern Curve Garden – a vital former temporary community space now permanently protected by local planning guidance – to the future of Hackney Central outlined in the forthcoming town centre strategy, the event was a chance to share ideas, knowledge and enthusiasm about what Hackney's town centres can be. My main takeaway from NLA On Location in Hackney was the need for us all to continue to collaborate and work in partnership to deliver on these opportunities.