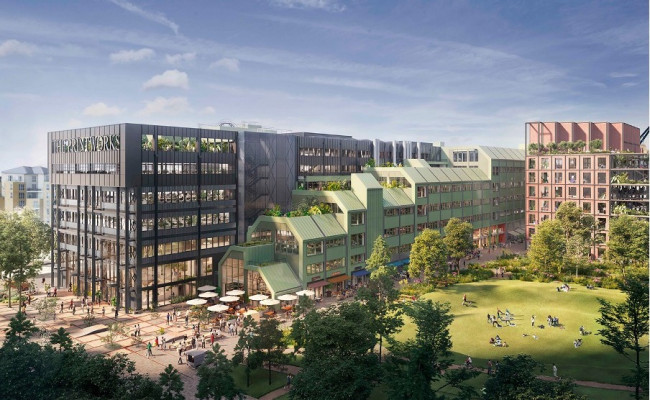 NLA Publishes New Research on Building a Renewable City
New NLA report 'Circular London: Building a Renewable City' sets out clear actions to make London a circular city.
The report responds to the Mayor's ambitious targets for London to be a net zero-carbon city by 2030.
Key recommendations include the adoption of Part Z of the Building Regulations and the removal of VAT on refurbishment.
NLA has today published its latest research; 'Circular London: Building a Renewable City'. The research sets out clear actions to be undertaken at industry and policy level if London is to meet its ambitious net-zero targets.
The collective call to action set out in the report includes:
Reducing the VAT for retrofit to the same level as for new buildings.
Including a pre-demolition audit in planning documents for existing buildings, to identify what can be re-used on site and elsewhere.
Implementing a demolition impact assessment to compare the carbon impact of a retrofit option with a new build, and ensure that the lowest carbon solution is adopted.
Changing Building Regulations to ensure mandatory assessments and reporting of whole life carbon, and setting limits on embodied carbon.
Making publicly funded projects commit to using circular principles and become exemplars in circularity.
Using more flexible and consistent approaches of certifying elements and materials for a second life.
Sharing risk differently between developers, designers, contractors and building owners.
Implementing a London-wide Carbon Review Panel (CRP) and Demolition Impact Assessment (DIA)
Designing a London-wide strategy for material storage and logistics. Set up hubs for re-use of materials.
Standardising components and encourage material leasing.
Promoting a culture and industry change in circular design education, re-skilling, manufacturing and deconstruction.
The report further maps short, mid and long-term actions to tackle change in regulation, industry and culture. The report and recommendations have been guided by the NLA Expert Panel for Net Zero, working in collaboration, and drawing together calls from other key stakeholders of the built environment industry: the Architects Climate Action Network (ACAN), The UK Green Building Council (UKGBC), the Low Energy Transformation initiative (LETI), Ellen McArthur Foundation, and the Architects Journal.
Peter Murray, Co-Founder of NLA, said:
"The construction industry is a major generator of waste and must address issues of recycling, reusing, repurposing materials and retrofit as a matter of urgency. Circular design reduces the demand for virgin resources, minimises waste, and decreases construction's environmental impact. Architects, engineers and developers must think beyond the traditional "take-make-dispose" approach and focus on designing flexible buildings and infrastructure for disassembly and reuse to lower the industry's carbon footprint. NLA's Circular London report addresses these issues by sharing a series of actions, case studies and thought pieces on how to make London circular and reduce its dependence on scarce resources."
Ashley Bateson, Chair - NLA Net Zero Expert Panel, Director, Hoare Lea, said:
"Embracing circularity in the built environment will change how we measure success in architecture. It means celebrating refurbishments over new builds. Until relatively recently new structures were seen as the pinnacle of creativity, and dominated how we saw beauty in architecture and engineering. Reducing upfront carbon means embracing the repurposing and retrofit of buildings, and excelling in working with fewer new materials."
Sarah O'Carroll, Cities Lead, Ellen MacArthur Foundation, said:
"With around 40% of carbon emissions in the UK linked to the built environment, our cities are at the frontline of the transition to a circular economy. We must look to cities like London to pioneer and mainstream circular approaches through design strategies, material choices and upskilling. By asking how circular London is today, this report showcases the encouraging progress already underway. Crucially, it also builds a pathway for the further action needed if London is to continue being a circular economy pioneer."
Download the full report here.
Image: The Printworks in Canada Water by Hawkins\Brown for British Land, will retain the existing structure and fabric.