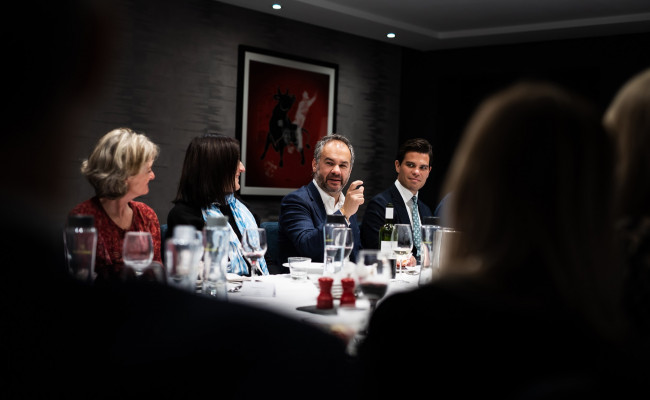 Opportunity London hits the party conference circuit
The Opportunity London campaign rolled into Liverpool and Birmingham as party conference season got into full swing – with a pair of well-attended dinners (co-hosted by New London Architecture, London Communications Agency and Mishcon de Reya) which attracted top politicians, business leaders and opinion formers.
At our dinner during Labour's annual gathering, Mayor Sadiq Khan spoke strongly in support of Opportunity London as a great example of a public-partnership which aims to promote international sustainable investment into the capital's boroughs, and crucially across all its communities. NLA co-founder Nick McKeogh got proceedings underway and there was also praise for the campaign from Tom Copley, the Deputy Mayor for Housing and Residential Development.
The Mayor, who during the conference underlined his aim of standing for a third term in 2024, also chatted informally to guests, who included Borough leaders, MPs, and business figures from the development and other sectors. His speech included the hope that there would be a better relationship under Liz Truss than there was for the past two-and-a-half years under Boris Johnson.
Intriguingly, this was backed up in Birmingham by the guest speaker, Paul Scully, the Minister for London. Guests pressed Scully on how the capital would fare under the current prime minister, in contrast to her predecessor's all-encompassing 'Levelling Up' agenda, which often seemed to favour other parts of the country at the expense of the capital.
Without giving government secrets away the minister signalled a possible rethink and agreed when a guest put forward the idea that 'the rest of the country succeeds when London succeeds, and vice-versa'.
Scully also had warm words for Opportunity London and the campaign was praised by Elizabeth Campbell, Leader of Kensington & Chelsea, while the dinner was kicked off with remarks from Peter Murray, the other NLA co-founder.