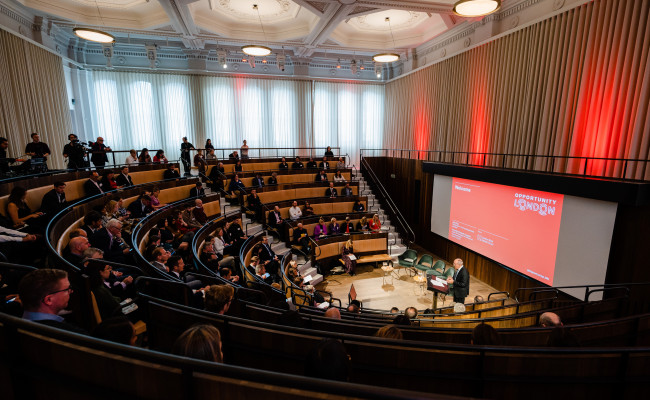 Opportunity London Investment Summit
The setting, the resplendent Royal Academy was really too fitting for the first annual Opportunity London Investment Summit.
Tourists, Students and Mayfair workers on their coffee breaks wandered in and out of the adorned halls, as if briefed to underline the point of the campaign – whether for culture, coffee, commerce or safe haven, London in the place to be, and it always has been.
As public and private sector folk from across the boroughs, landowners, asset and infrastructure managers took their seats a cross-party coalition explained what the campaign is all about. Founder Nick McKeogh introduced proceedings, making way for Deputy Mayor for Planning and Regeneration Jules Pipe to explain that Opportunity London and all those behind it are for 'growth that is socially and economically inclusive and environmentally sustainable'. Cllr Elizabeth Campbell, Leader of the Royal Borough of Kensington and Chelsea, added that it is underpinned by 'real political will to attract sustainable investment to the capital'.
Presumably inspired by the art around them, the panellists held up a mirror to our current state of affairs. Kate Hart, Director of Comms at Primera, spoke honestly about the need to reframe perceptions of central London. Jamie Robinson from Barnet Council explained that while we might understand what makes for great high streets and town centres, we struggle to make them a reality, and Nick Searl of Argent took on developers' myopia when it comes to providing great spaces for retailers.
The need for real and sustainable investment in housing, and particularly affordable housing was spelt out in no uncertain terms. Rob Perrins, CEO of Berkeley Group, implored everyone to find the same spirit that got us through the financial crash while John Lewis of Peabody shared that with the rent cap looming the model is 'so under pressure that it's scary'. Rickardo Hyatt, newly installed in Hackney via the GLA, felt that we had no choice now but to be brutally honest about viability and deliverability.
Hearteningly, despite the obvious challenges, there was no lack of ambition. Joanne Drew of Enfield Council explained her vision for a completely re-tooled and re-focused planning service while Rob Heasman of Earls Court Development Company described a bold vision for bringing the 'wonder' back to the area. Louise Duggan, Interim Head of Regeneration at City Hall, spoke of the spirit of coordination that still persists in the aftermath of the pandemic.
At the evening reception, Heart of London Business Alliance CEO Ros Morgan read an original, self-penned work to the gathered crowd, an epic ode to the Big Smoke in all its complexity. Just right for the setting, and a perfect demonstration of the grit, creativity and ambition that Opportunity London seeks to channel to secure the next great period of growth for the city.
Opportunity London is a major campaign to promote sustainable investment into real estate, regeneration and green infrastructure across London's boroughs and communities. It is a partnership between the Mayor of London, London Councils and the City of London Corporation, kindly supported by the Primera BIDS, Almacantar, Berkeley Group, The Earls Court Development Company, the New West End Company, Old Oak and Park Royal Development Corporation and Related Argent. The campaign is being driven by the NLA, London & Partners and London Communications Agency